Fr. Shaw, the Rector Emeritus of Our Lady Queen of Angels, moved to Rio Rancho in 1994, with his wife, from San Francisco, where he was an assistant in a church there for a number of years. "We liked the area and thought it had potential for a new church, so we settled here," he said. Fr. Shaw began distributing brochures and advertising Our Lady Queen of Angels as he started the church in his home in August of 1994. "We started with six people," he said. "We transformed our dining room and living room into a temporary chapel."
In February of 1995, Fr. Shaw rented a location on Veranda Road, and the church continued to grow. The congregation outgrew that location after several years and the property at Tulip and Abrazo Roads was purchased, after which construction was begun in 2001, with financial help from a generous congregation, as well as from Church headquarters in Ojai, California. Final funding came from a bank loan and grants from The Liberal Catholic Church Province of the United States. Fr. Shaw celebrated the first Mass in the new building on Easter Sunday, 2002.
Improvements to the building and the property have continued and are continuing, again with the help of a congregation who has been generous both with their time and their financial contributions. All of us are volunteers, and neither staff nor clergy are paid for their services.
Directions to Church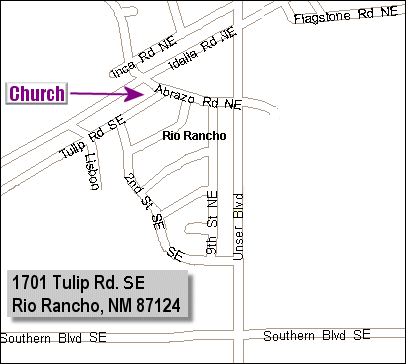 From Southern and Unser:
Head North on Unser Blvd
Turn Left on Abrazo Rd (at stop light)
Turn Left on Tulip Rd
The church is immediately on the Right
From Northern and Unser:
Head South on Unser Blvd
Turn Right on Abrazo Rd (at stop light)
Turn Left on Tulip Rd
The church is immediately on the Right
Our Lady Queen of Angels
1701 Tulip Rd SE
Rio Rancho, NM 87124
(505) 896-1611